Hopeson Adorye has been forced to edit some post he made on social media about someone betraying him despite the fact that he, Hopeson Adorye, had given him his full support. In that post he earlier made, Hopeson Adorye was not specific about who he was talking about. Many Ghanaians speculated that the person in question could be Alan Kyeremanten. This is because, all this time, the person who Hopeson Adorye has fully supported publicly is Alan Kyeremanten.
Also, another school of thought was that Hopeson Adorye was referring to Justin Frimpong Kodua. It is public knowledge that Hopeson Adorye had campaigned against the candidature of John Boadu. His full support was for Justin Frimpong Kodua. And as such, he could not hide his joy when Justin Kodua won that election. However, Justin Frimpong Kodua has been doing and saying the unusual after the health walk. Perhaps, Hopeson was thinking that Justin Frimpong Kodua will be somehow lenient towards him.
Just to clarify the air about the former speculation of Ghanaians that Hopeson was disappointed in Alan, Hopeson made this change to his post.
"Chief Alan John Kwadwo Kyeremanten, I am firmly with you. Nothing can push me out from you. The ungrateful ones know themselves"
Hopeson Adorye expressed his fervent and strong support for Alan irrespective of Alan's disassociation from the comments he made and the complete condemnation Alan made.
However, Hopeson stated emphatically and still insisted on his stance that some people have been ungrateful. This is obviously because he has helped those people. We must send our attention to one thought. Who could this people be?
The answer could be the people who spearheaded the major decision that hauled or will bring Hopeson Adorye and Vincent Assafuah before the NCC. That notwithstanding, Hopeson Adorye must know that he is not above the laws regardless the people he chooses to align himself with.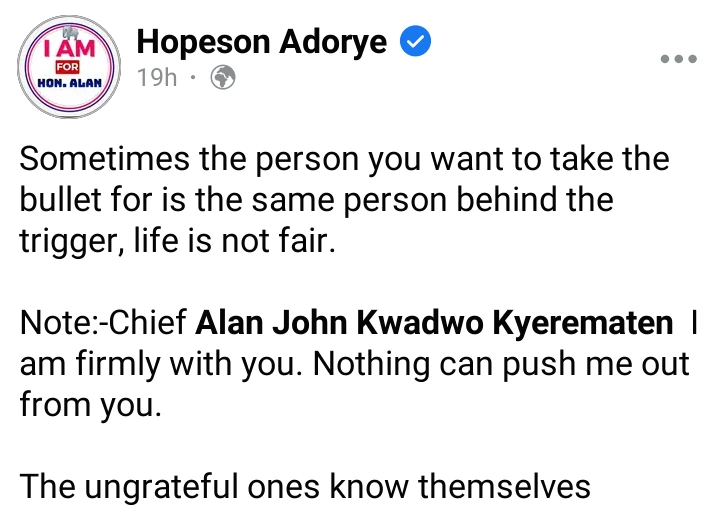 Content created and supplied by: Gentle.Blogger (via Opera News )